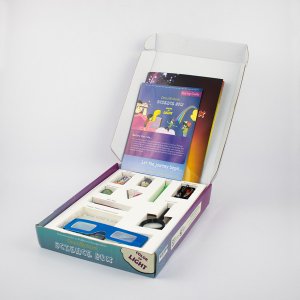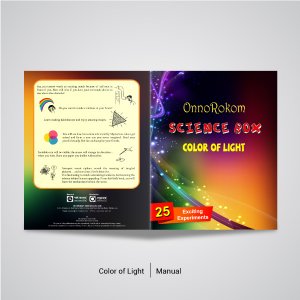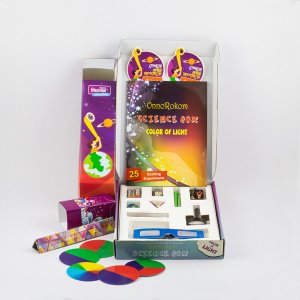 Color of Light
৳ 990
Make your own periscope
Learn different ways of creating rainbow
See the world in new color through color glass
+20 more exciting experiments
Product

Description

Why we are making the "Color of Light" Science box?

Let's hear the magnificent story of Sohom! Sohom reads in class one. But he has learned the formula of the reflection of light in this very small age! How come that is possible! He has learned this from the exciting experiment of Periscope of the box "Color of light". Wonder how rich the world of his thoughts has become?

We wish that the world of imagination of our children would be colorful. When they will come to know that theories of light, like reflection, reflection, scattering etc are not that hard, rather a matter of joy, they will learn the chapter of 'Light' in their physics book very easily. Here, our wonder kid Sohom has already learnt that the mirrors of periscope have to put in 45 degree to see the objects out of reach. He has also learnt making new colors by mixing the fundamental colors by Newtons color wheel. Learning Science is now fun to him!

As a responsible parent you can give the science boxes to your children for these reasons-

To do better in study

These science boxes makes the tendency of asking questions among kids. Science is often treated as a hard and dull subject to us. We usually just memorise the theories of the book and write it up on the exam. We dont want our children to do that. These science boxes are for learning science with fun! When they will do the experiments by themselves huge confidence will be built in them and they will discover the beauty of science! Science will be no longer a thing to memorising and forgetting after exam. This will also be very helpful in his creative learning method syllabus.

For developing talent

Developing talent is a matter of practice. Our science box will put them in the practice of science experiments. When they will have the experience implementing the theories they have read in their science books, new horizon of imagination will be explored by them. We are working to create such a Talented new generation.

To overcome digital addiction

We have seen in our survey that, the experiments of science boxes keep children busy doing new experiments, and they are facing new questions. To resolve the questions, many of them have created new science projects. This projects are shown in various science fair or festival, and they are getting praised, often they are getting prizes also. In this process their attention from digital devices is going away.

To give your children quality time

Sometimes, we are giving our children such toys which are okay for his leisure, but not giving them quality time. Our science boxes are different. You can do this experiments along with your child. This will give them good memories and they will also learn many things.

Why Color of Light science box is necessary for your children?
They will be able to do 25 exciting experiments of light.

They will be able to make new experiments and participate in science fairs.

They will stop memorizing and start learning science.

All of this experiments are associated with different chapter of their science books.

They will have clear conception about the science experiments they are doing.
What theories they will learn about light?
Reflection of light

Refraction of light

Scattering of light

Newtons color wheel

Fundamental colors

Total internal reflection

Light absorption
Does the experiments have similarity with text books?
Yes, all of the experiments are from text books of class six to ten. It does'nt matter at what age you will give him the science box. He will learn science with fun, and always will be one step ahead!
Will children be able to do the experiments by their own?
Yes. Because there are Manual books and CD in the box. The instructions are very clear, and by following them, children will be able to do the experiments by their own easily.
Besides this in our youtube channel, Onnorokom Bigganbaksho, there are tutorials of the experiments.
If there is more query, you can call to our customer care- 01847103102.
Apparatus of "Color of Light" are:-
Pinhole Camera Box

Bouncing Ball

Mirror

Periscope box

Kaleidoscope box

Flash light

Stroboscope

Motor

Lens

Battery and Casing

Color wheel

Funny glasses
What can be done with these?
Total 25 experiments of light can be done using the basic formulas of light like reflection, refraction etc.
Lets watch some of these-
Rest of the experiments are
Light Bounces!

Mirror effect

Solving Cipher

Millions of you

Mission periscope

Kaleidoscope beauty

Distract light from it's way!

Bend Pencil virtually

Coin magic

Change the direction of an arrow

Rainbow with mirror

Rainbow without science box!

Rainbow again!

The goggles

Do you see what I see?

Once more, do you see what I see?

Reflection and Refraction at once.

Stream of light

Stroboscope

Flame without fire

Capture Forged note
We hope, and sincerely believe that as a responsible and concerned parent you will give the color of light science box to your children to sharpen their intelligence.
color, of , light, co
How it works